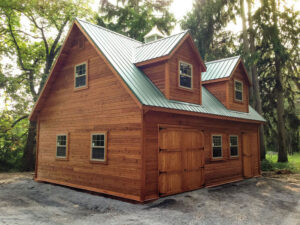 When you find yourself in need of some extra space, there are plenty of outdoor structures to consider as a solution. While the right choice will ultimately depend on your individual circumstances, we find that most people can't go wrong with a two-story barn.
An additional multi-story building on your property might sound like an ambitious task, but with a skilled team of design and installation specialists, it's a lot easier than you think. Check out a few of the most popular reasons homeowners invest in two-story barns!
Double your storage space.
The second story of your barn is the perfect spot to store excess clutter from your house, garage, and other storage areas. You'll have more room to organize off-season items, large equipment, or if you're boarding horses on the first level, your tack, feed, hay, and other supplies. Plus, there's the added advantage of getting all of this extra space without sacrificing more of your land, since you're building up instead of out.
Create new living areas.
If you'd rather make active use out of your barn, use the second story as a completely separate room or apartment for work, hobbies, or even guests. Set up some comfy furniture and a television to make it into a lounge area. Or, turn it into your craft space or home office. Horse owners can even use it as a trophy room! A second story to your barn opens up endless possibilities.
Enhance the look of your property.
Compared to smaller-scale outdoor structures, a two-story barn has more room for customization during the design and construction process. Choose from different frames, styles, sizes, amenities, and upgrades to best fit your needs and tastes. Such a unique property feature is bound to catch the eye and improve the look of your landscape.
At Amish Barn Company, we understand that traditional storage options and outdoor structures don't always meet the needs of every property owner. That's why we offer Amish-built two-story barns with a wide range of options for shape, size, materials, and other customizable features. Our team will work with you closely to design the best barn for your space.
Contact us today to place your order and begin the process of creating your dream yard!