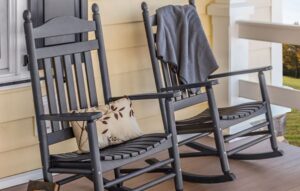 Working on creating a relaxing summer sanctuary in your backyard? Maybe you're furnishing a covered patio or adding some accent pieces to a poolside deck. Whatever the case may be, we can help you find durable, attractive outdoor poly furniture to match your vision.
These days, poly furniture is available in a diverse selection of styles and colors that can be tailored to suit the unique aesthetic qualities of different spaces. Not only will poly tables and chairs look great when you first bring them home, they will retain their color and appearance for decades without fading, rotting, cracking or falling victim to insect damage. These qualities make poly furniture a particularly ideal choice for outdoor settings like decks and patios.
In addition to being exceptionally versatile and long-lasting, furniture made from poly lumber is more environmentally friendly than many other alternatives as well. This is because it's made from recycled milk jugs that would otherwise wind up in the trash.
If poly furniture just isn't your style, we offer traditional Amish-built outdoor furniture made from non-toxic pressure treated pine as well. Choose from Adirondack chairs, porch swings, patio sets, picnic tables and more. Our talented craftsmen are capable of creating high-quality outdoor furniture a variety of classic styles.
Interested in learning more about our outdoor furniture or any of the other products we offer at Amish Barn Company? We'd be happy to help! Just give us a call at (607) 6432-0527 or contact us online today.