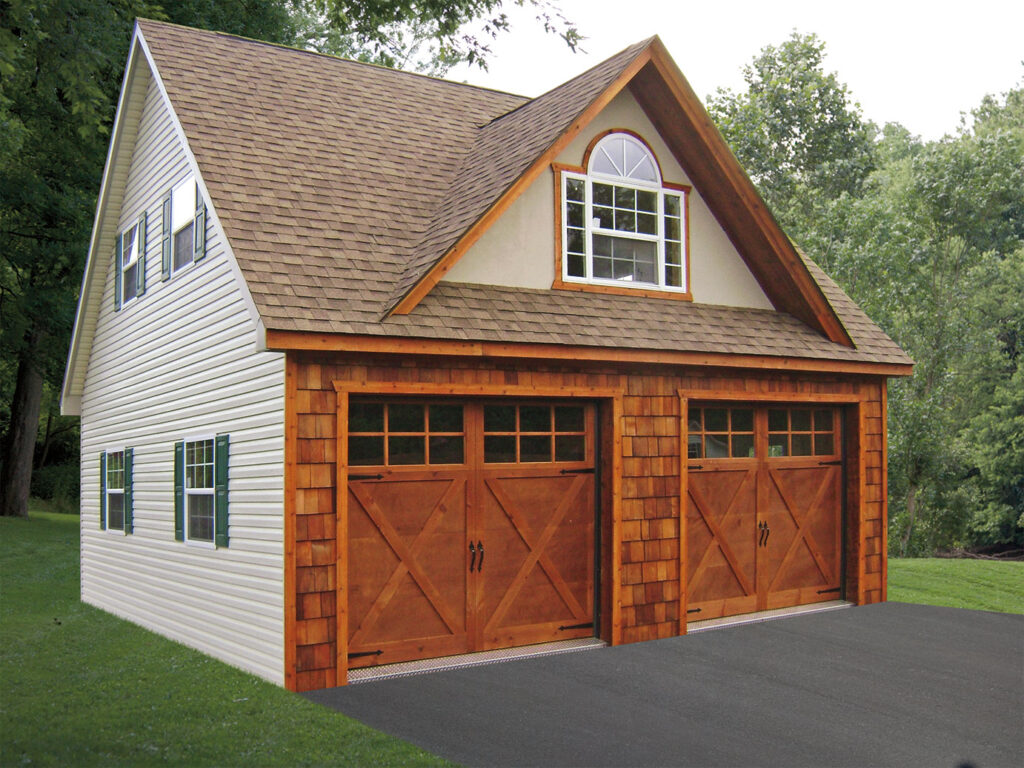 The elements can cause a lot of wear and tear on your automobile, especially during the winter months. It is also very time consuming to scrape the ice and snow off of your car. You have to be at work early as it is, and who wants to wake up before dawn during the winter, get bundled up and brush off your car and scrape off ice before your commute to work even starts?
With a prefab or built-on-site garage from Amish Barn Company, you won't need to worry about cleaning off your vehicle in the winter season.
Amish Barn Co. Prefab Garages
Amish Barn Company constructs handmade, quality prefabricated garages based on our most popular shed designs. We offer single- and double-wide garages with a rustic, picturesque aesthetic that are not only pleasing to the eye, but also step up to the plate in terms of functionality. Even in the worst winter conditions, you can keep your car protected from the blustery snow and cold inside your garage, protected from the inches or even feet that an upstate New York snow storm can bring.
Storage for All Seasons
A garage is also a great place to store your boat during the frigid months, saving you money from keeping it at a marina or storage facility. You can also store heavy equipment, such as rider mowers, generators, leaf blowers and more, not to mention other seasonal vehicles like four-wheelers or motorcycles. Plus you can also give yourself a dedicated workshop space, allowing you to have a convenient place to store your tools and parts for around the house projects or car maintenance and repairs.
Building On-Site for Convenience
If that is not enough to fit your needs, Amish Barn Company also offers garages that are built on site, customized to meet your needs. We have built many quality garages at residences throughout the region and we work quickly, too, with an average construction time of one to two days. Plus, if you have unique elements that you want added to your garage – more customized siding, a lofted storage space, or an extra-large bay door – we can incorporate that into your customized garage.
We work fast and we work hard to make sure you are happy with your prefab or built on site garages. These garages are custom built to your specifications. Amish Barn Company is proud to share our beautiful and practical garages with you for a very affordable price. Learn more about the different options available by giving us a call today at 607-432-0527.