10×20-Universal w/10′ Overhang-Stock #2133
Stock Number: #2133
Color: Barn Red/Barn Red/Black
Size: 10x20
Location: 6284 State Highway 23 Oneonta, NY
Discounted Price: $17,400 from $17,545
Delivery: FREE! Within 100 miles!
10×20 Shed Area/10×20 Hinged Overhang Area
Barn Red Siding & Trim
White Trim on Windows
Black Shingles with Tar Paper
Plywood Roof Sheathing
Gable Vents
(4) 24″x36″ Windows with Screens
6′ Double Door-Painted White
3′ Single Door-Painted White
Strap Hinges on All Doors
12″OC Floor Joists
Pressure Treated Flooring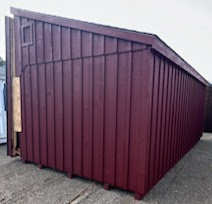 Additional Information
Rent-to-Own is not available. Credit check financing is available.