12×16-A Frame-Stock #6148HB
Stock Number: #6148HB
Color: Sage Green/White/Hickory
Size: 12x16
Location: 27792 Route 28 Andes, NY
Discounted Price: $8,500 from $8,976
Delivery: FREE! Within 100 miles!
Sage Green Siding
White Trim
Hickory Shingles with Tar Paper
8'x16′ Shed Area/4'x16′ Porch Area
36″ Single Door with Transom on Porch
Double Barn Doors with Transoms on Gable End
Gable Vents
(2) 24″x36″ Windows with Screens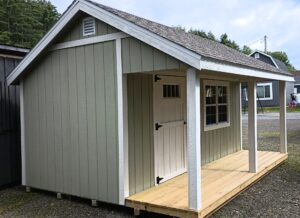 Additional Information
Rent-to-own payment options below. Credit check financing is also available.